The Coloring Candy is one of the special candies, which will help you boost your gameplay. It's the trickiest to create but gives the most spectacular of results!
What does the Coloring Candy do?
When you match the Coloring Candy with any candy on the board, each candy of the color you matched will change to be the same as the Coloring Candy.
Combining the Coloring Candy with another special candy can create powerful chain reactions, as it will duplicate the special candy you match it with. Try it out and see what happens!
How do I create the Coloring Candy?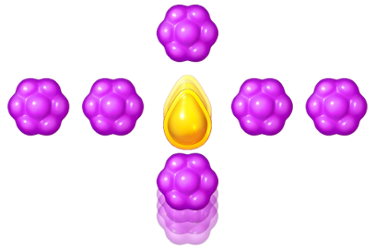 To create the Coloring Candy you must get 7 candies in a T shape. 5 of them have to be in a row (as you would with a color bomb) but it must have same candies in the opposite spots from the center where they match. This is kind of a cross between the Color bomb and the Wrapped candy.