As you play Candy Crush Friends Saga, you'll have the opportunity to open gift boxes that are filled with tasty treats!
The size and color of gift boxes will give you an idea of what's inside.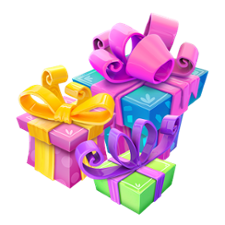 You'll find fragments inside gift boxes. These fragments will help you to unlock a blend of the following rewards:
New characters
New costumers
Power boosters
Extra lives
Collect the required number of fragments to completely unlock new rewards. Collections will be added to your Scrapbook, which you can view at any time by tapping the book icon at the bottom of the map screen.
You can also receive special timed treat boosters, which will be shown with a yellow thunderbolt on, so collect those fragments to enable this handy helper. The Friendly Charge booster can also be powered by fragments collected when you use your friend's power.
Be sure to check your totals increase for each category when you reach each gift box and view and collect your reward when they're complete!