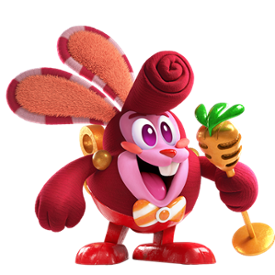 Red Rabbit is one of the Candy Friends who will offer help to you as your play your way through levels. 
He's always wanted to run fast and now that he's in Candy Town, he delights in daily speed sprints.  He's all set to reach his next goal in life, to become a famous rock star!
Red Rabbit will help you whenever you've collected enough red candies to trigger his special help move.  Red Rabbit's power will attack blockers for you at a random position on the board, making way for you to tackle any challenge ahead.
Cheers to you, Red Rabbit!