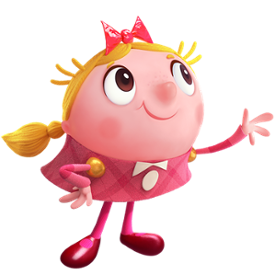 Tiffi is one of the Candy Friends who will offer help to you as you play your way through levels. 
She's a mischievous ball of enthusiasm who accidentally fell into the Candy Kingdom and brought a little bit of chaos into Mr Toffee's orderly world.
Although she eventually wants to make her way home again, she's more than happy to stick around and enjoy some adventures, exploration and of course, Candy!
Tiffi will help you whenever you've collected enough red candies to trigger her special help move. Tiffi's move will spawn free Swedish Fish at random positions on the board.
Fabulous, Tiffi!