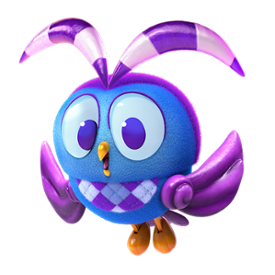 Odus the owl is one of the Candy Friends who will offer help to you as you play your way through levels. 
Odus is old and wise.  Well, old anyway. Unfortunately, he's lost his spectacles and can't read a word without them!
To make up for this, he relies on his dubious memory to dispense questionable advice.
As one of the Candy Friends, Odus will help you whenever you've collected enough purple candies to trigger his special help move.  Odus' power will add striped candies to your game board at random places.  Striped candies are perfect for taking out rows or columns in one blast!
You're awesome, Odus!