It's possible that before playing a level, some of your characters may not load as expected (a "downloading" message may appear on screen).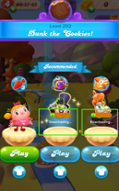 You may think that the download is not taking place because the progress bar is not moving, but the download is happening in the background. If your internet connection is not that fast, it can take a little while to download your character and costumes. Please be patient: your characters will be right there in a moment!
If possible, try to avoid uninstalling the game. Instead, you should force close the app and open it again to avoid interrupting your download.