Your favourite friends are the Candy characters and they are here to help on every level!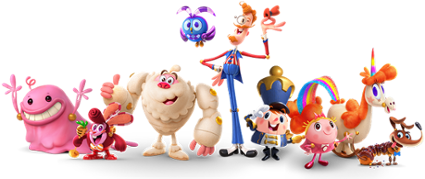 Before they can help you, you'll need to power them up by collecting their favourite types of candies. Watch their power bar fill up and as soon as you have collected enough of their preferred candy to fully charge their power, they'll make their 'friend power' move and add a tasty booster onto your game board to give you an extra helping hand. The more of the requested candy you collect, the more boosters you'll get to beat the level. 
As you find the Candy Surprise boxes you'll find new stickers to level up your Candy Friends and discover new ones.  Once you have collected enough stickers to unlock the next character, you'll find them ready and waiting to help on the next level.  
As you start a level you can choose which character you'd like to lend you a hand by simply selecting them from the menu under the green 'Play' button. The game will also make a recommendation, so choose carefully as some Candy Friend special powers work differently to others. 
Check out the different pages in this Help Center for each friend so you can learn more about them and experiment with them to see who's your best play partner!