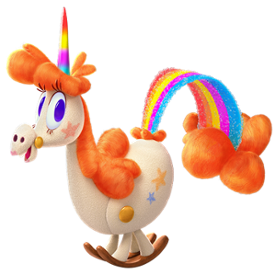 Misty is one of the Candy Friends. She will offer help to you as you play your way through levels. 
Misty the Unicorn is blessed with the kind of unparalleled self-importance you'd expect from a rare, beautiful creature.
So whatever you do, do NOT call her a horse!
Misty will help you whenever you've collected enough orange candies to trigger her special help move.  Misty's power will create special a variety of different booster candies at random positions on the board.
You're so sweet, Misty!