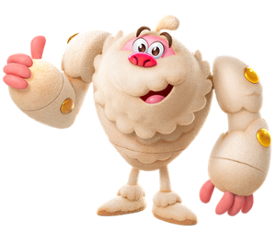 Yeti is one of the Candy Friends who will offer help to you as you play your way through levels. 
He's enormously strong but riddled with anxieties and self-doubt.  He's a lovable lunkhead who came from another game called 'Yeti Trap', where he was constantly hunted.  
Now he's in the peaceful Candy Town, he enjoys yoga and mediation, which helps with control his fears and insatiable Yeti appetite!
Yeti will help you whenever you've collected enough cyan candies to trigger his special help move. Yeti will throw a snowball containing a free Wrapped Candy at a random position on the board. Handy for those 3x3 sized blasts!
We love you Yeti!