Swimming across the sweet blue waters, Olivia, a musician, singer, and comedienne, is back from her travels performing around the world. She's a new character with a whole new set of abilities and now she's ready to have fun with the rest of the Candy Crush Friends. Make sure you give her a chance to help you and the trapped little octopus friends that have gotten into trouble! 

How does it work? 
Olivia's Garden is a brand new event! Enjoy the new time-limited event in Candy Crush Friends Saga. There are 10 exclusive new levels in a whole new underwater world to save her troubled octopus friends. You can easily access Olivia's new levels from the main map. When you finish the 10 levels, and you return to the regular map, a lovely Star Chaser Challenge will start!  
What do I do? 
Because the little octopuses love to eat Gummies, they've gotten stuck. It's up to Olivia and her Friends to help get them out! To complete the event, simply try to beat all the levels to free them all.
What can I win? 
After you have successfully completed all the levels, Olivia will join your roster of playable characters forever. Make sure you get her before she leaves again to keep performing her sweet songs around the sea. Olivia will only be available for a limited period of time. Don't miss out!
When can I take part?
You will be able to play Olivia's garden event from the 3rd of March, which will only run for a limited period of time! There will be a timer telling you how long you have to play it and get your delicious rewards.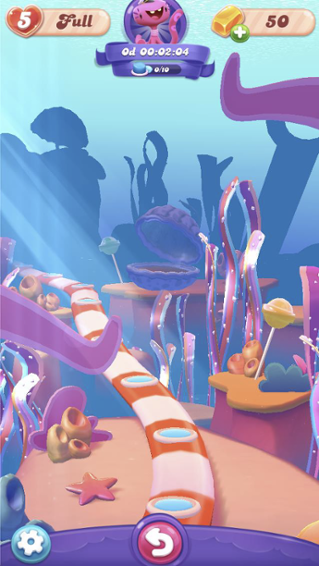 What if others can play it and I can't?
In order to keep the events and challenges accessible and available for everyone, sometimes you might have access to it and your friends may not, or vice-versa. This is so that everyone gets to play as many features as is manageable.  Keep in mind, you may have it when they don't too - so dive in whenever you get the chance!
Please bear in mind that this event is stored in locally. So if you play on multiple devices the progress will not be synchronized. In addition, if you delete and reinstall the app, the progress can vanish and you will have to start over. We hope you enjoy!