What is the Star Chaser Event?
The Star Chaser event challenges you to collect a set amount of stars to win sweet rewards!
What do I need to do?
Every time you win a level in Candy Crush Friends Saga, you collect either 1, 2 or 3 stars. The higher your score, the more stars you win. When you play a new level, any stars you win count toward your Star Chaser target.
You can also replay levels that you already passed but received less than 3 stars for. E.g. If you received 1 star on a previous level, you can go back and replay it and attempt to get 3 stars. If you succeed in getting 3 stars, the 2 new stars you win will count toward your Star Chaser total. If you get 2 stars, the 1 new star will count toward Star Chaser.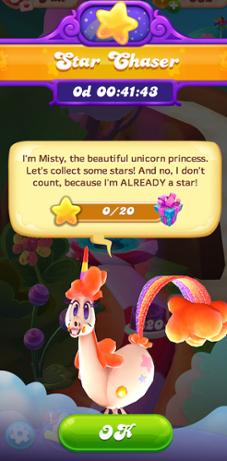 To check how close you are to your target, tap the quests button at the bottom of the in-game home screen. When you hit your target, you will receive delicious rewards. Hurry, collect as many stars as you can, as you have a limited time to get your rewards. You can do it!
When can I play the Star Chaser event?
You need to be above level 27 to see this challenge. If you can't play it this time, don't worry! You'll be able to play it very soon.
Does my progress sync across devices?
Please note that your star chaser progress is saved locally. This means that your progress will not sync across different devices.